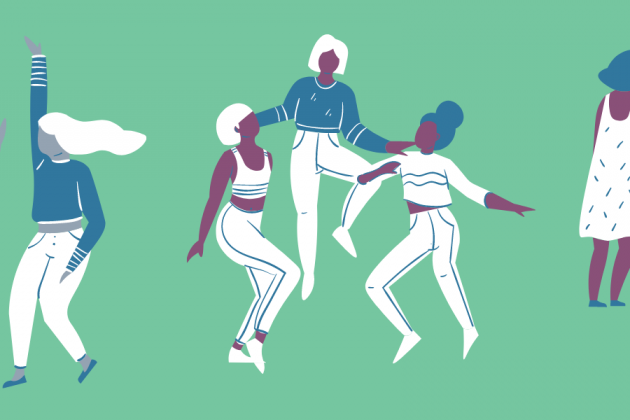 Important Routine Sexual Health Tests
As part of your sexual health, there are a few important routine tests. This list goes over these main tests, what to expect, when you should start getting these routine tests done, and how often to get tested.
STI Testing
STI testing – getting tested for sexually transmitted infections – is important for anyone who is sexually active. To read all about STIs, the different types of testing available, and how often to get tested, visit this section of our hub.
The key message is that it's important to make it a regular part of your health routine. Get tested when you get a new partner or at least once a year!
Pap Tests: Cervical Pap Tests
A cervical Pap test is a test where a long cotton swab is used to collect cells from the cervix to test them for abnormal cells. A Pap test starts with a speculum, which is a device that looks like a long duck's beak and that is placed inside the vagina and slowly opened so the physician can see clearly to the cervix. This shouldn't cause pain, but the speculum will create a sensation of pressure or discomfort, and you might notice a small sensation from the swab when it is run across your cervix to collect the cells. A pap test doesn't take long – less than a minute –and your physician will use lubrication on the speculum, as well as ask you to place your feet up (usually in stirrups attached to the examination table) to get in a more comfortable position.
Generally, this is how it goes: you will be asked to change into a hospital gown that will cover you to your knees. When the exam happens, you only need to lift up a small portion of the gown for just a few moments. If you are feeling shy or worried, remember - your health care provider has seen genitals of all different shapes, color and sizes. This is just a routine part of their job.
Pap tests are important routine tests that help catch any changes on the cervix. That's because HPV, a super common and usually benign STI, can cause changes to the cervix. If your Pap results show abnormal cells, that doesn't yet mean something has to be done. Often, your cervix will return to normal after some time, kind of like a cold that your body clears on its own.
Sometimes, your doctor may ask you to have another Pap test in a specific time frame to see if the cells return to normal. If abnormal cells are still being detected, your health care provider may suggest further treatment depending on what is needed because those abnormal cells can lead to cervical cancer over a long period of time.
Everyone with a cervix needs regular Pap tests – this includes trans men and nonbinary folks.
This test can make some of us feel panic or distress. There are ways to make this more comfortable if internal examinations are difficult for you. Here are some things that might help:
Tell your health care provider what might help reduce your stress during the exam or what would make going through the exam more comfortable. That could be getting an extra gown or having a blanket to cover up more. It could mean changing position or bringing a friend along.
Talk with your health care provider about the specific parts of the procedure that you're feeling most anxious about. Your health care provider should work with you to find ways to ease this anxiety
Ask your health care provider to describe the procedure as it's happening, if that makes you more comfortable. Or, if you'd rather not know, ask your health care provider to discuss other things during the procedure (or not talk at all, depending on what feels best for you)
Suggest ways that might help distract you from the exam or feel more in charge/in control during the exam. Sometimes, health care providers can suggest ways to modify the exam to help make it more comfortable – for example, leaving more of your clothing on, changing up how you are laying or sitting down, and more
Ask your health care provider for support. If you need them, ask your health care provider for contact information for support services and rape crisis centres and phone lines – you deserve support and you deserve to get important tests that keeps us healthy
If possible, ask for the HPV vaccine to be protected against the main HPV strains that cause changes to the cervix. Click here to read more about the vaccine.
When and how often?
Different provinces have different guidelines around how often and when to get Pap tests. Commonly, it is suggested that those who are sexually active get a Pap test every three years starting at age 21. Chat with your health care provider to see when they recommend you start getting a Pap test.
Anal Pap Tests
An anal Pap smear is like a cervical Pap test but the cotton swab is used to collect a sample of anal tissue to test for any changes to one's anal health (and catch things like anal cancer early). This test is not offered as routinely but if you have anal sex, it's important to request it as an HPV infection in the anal canal and rectum can develop into cancerous cells and lesions. When those are caught early, treatment can be offered to stay healthy and thrive.
When and how often?
There is no consensus on how often to get an anal Pap, but commonly, it is recommended that if you are having regular anal sex, you should get tested once every one or two years.
What about checking our throats?
HPV, the virus responsible for cervical cancers and the reason why we have Pap tests, is also the reason behind some forms of head and neck cancers when HPV is transmitted through oral sex. There are no standardized tests yet to detect early infections that the immune system is not clearing – and most of the time, our bodies clear HPV infections within a year or two.
Asking your health care providers for swabs or an oral rinse test can be pivotal for the prevention of oropharyngeal cancers that form on the tonsils and tongue. Researchers are currently looking for ways to develop a formal screening test for HPV throat cancer. Until they do, awareness of early symptoms of throat cancer is essential: a lump in the throat, a sore throat that just won't go away, and having trouble swallowing.
A throat swab is also important when we are getting tested for STIs like chlamydia or gonorrhea as the infection can also be present in the throat. Ask your health care provider for one as they are not routinely offered.
Prostate Exams
A prostate exam is a physical exam where your doctor inserts a lubricated and gloved finger into your anus to feel the size of the prostate and check for any abnormalities. This process takes less than a minute and is an important part of prevention and early detection of anything that might indicate prostate cancer or other prostate conditions that would require monitoring.
In addition to the physical examination, doctors may take a blood test to measure the amount of prostate-specific antigens in the blood, which can help detect different prostate conditions.
When and how often?
After the age of 50, people with prostates (those assigned male at birth) should chat with their health care provider about getting a prostate exam. If you do not have a history of prostate cancer, repeating the exam every two to four years is the average. If you do have a family history of prostate cancer or prostate abnormalities, you should test more frequently.
Colonoscopies
By the age of 50, everyone should chat with their health care provider about getting a colonoscopy.
A colonoscopy tests for cancers of the anus and rectum. A health care provider will insert a small, flexible tube into the anus to look at your colon and rectum. During this test, doctors look for polyps – small growths that are usually harmless, but can be pre-cancerous, so it's good to locate these early on.
When and how often?
Getting a colonoscopy done around the age of 50 is important, and depending on the results, your health care provider will let you know when and how often to repeat the test. If you don't have any polyps or unusual test results, you can wait up to 10 years to repeat the test. People with a history of anal or rectal cancers may test once every three years, as per the advice of their health care provider.
Fecal Occult Blood Tests
Typically used a way to screen for colon or rectal cancers, the fecal occult blood test checks a stool (poop) sample for blood. Traces of blood may be a clue for colon cancer or rectal cancers, or other colon or rectal conditions. The test only requires a stool sample – where you provide a sample of your poop to your health care provider. They will provide a small plastic container for this purpose, and instructions.
When and how often?
By the age of 50, your health care provider may suggest a fecal occult blood test. Check with your health care provider about how often to get this test – some suggest every five to 10 years, but this will also depend on your medical history.
Breast / Chest Examination
A breast exam is a physical exam of the breasts/chest and underarm area, which is done manually by a health care provider (using their hands). Usually, health care providers will ask you to undress and put on a gown, which they will then pull down only enough to examine your breasts/chest to feel manually for any lumps or bumps. It can be helpful to do this at home on your own breasts/chest to get used to your body usually feels – some people have lumpier chests naturally, and others don't, so getting used to "your normal" is helpful!
If they feel anything is out of the ordinary, your doctor might suggest a follow-up mammogram, or breast ultrasound. During this procedure, an X-ray machine is used to scan the breasts/chest to detect breast cancer. During this exam, you place your breast between two plates on the machine, which then slowly compress your breast tissue before taking an X-ray.
When and how often?
Chat with your health care provider about how often to have a manual breast examination. While recommendations differ from province-to-province, generally, those with breasts should get a breast / chest exam every three years in their 20s and 30s if they have no history of breast cancer.
However, guidelines vary as some evidence shows that checking too often sometimes leads to unnecessary biopsies (which occur when a bump is located and a small sample of the lump is removed to check for cancer cells – most bumps are not cancerous). Those over 40 should have a test once per year. That said, it's great to get into the habit of checking your own breasts/chest for any unusual lumps or bumps with each menstrual cycle, to make it a regular part of your routine!
Testicular Self-Examination
Testicular self-examination refers to using your hands to check your testicles for any lumps or bumps. This can be done on your own every month or so, to get used to the size, shape and lumpiness of your testicles and note any unusual bumps. If you find any bumps that feel out of the ordinary, check in with a health care provider.
When and how often?
Starting in puberty and continuing as you get older – this is something you can do on your own every month.