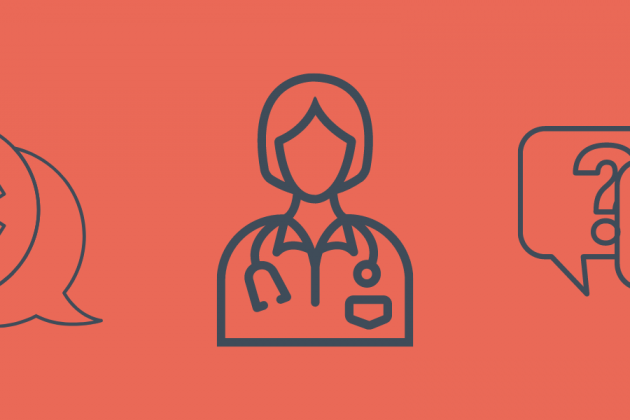 Sometimes, we get our sexual and reproductive health info from our health care providers. Other times, it's easier, more convenient, or more realistic to pull out our smart phones or computer to search that weird rash, or to figure out where to go when you're pregnant and want to access options counselling or abortion care.
We need information to be able to make and act on decisions about our lives, our health and our wellbeing. However, information on the internet isn't regulated, so lots of misinformation exists out there. That is why it is important to assess the quality, reliability, and potential bias of the information that we find on the internet. Here are a few things to keep in mind:
Is this fact or opinion?
Opinions! Everyone has them. They are not inherently good or bad, and some of them can definitely help inform us. There are awesome blogs, think pieces, or articles out there that can help us rethink an issue, educate us on some important topics (including those touching on sexuality), make us feel understood, or help us understand the perspectives of others.
However, there are also a lot of sites that try to pass off their opinions as reliable health information. If it feels like the information on a website is mainly someone's opinion or personal perspective (for instance, a personal blog or "Opinion" column in an online newspaper) as opposed to scientifically researched and evidence-based information, check to see if the site lists reliable sources or facts as the basis for their commentary and if not, take it for what it is: someone's personal opinion. Watch out for the 'tyranny of the anecdote', which happens when someone's individual story comes to be a stand-in for a wide variety of evidence on a topic.
Next, turn up your radar to see if what you are reading perhaps comes from an individual or organization (sometimes with very official sounding names), trying to impose a certain value or meaning to choices and behaviours, or sweeping conclusions based on anecdotes or their own set of values rather than scientific evidence.
Who has published this information: a federal or provincial health authority or an organization? Does the organization have a set of specific interests they want you to support, or are they seeking to be as objective as possible?
Go to their "About Me" page and get a better sense of what the organization is all about. Look out for fear-based messaging that tells you how you should feel about something, what your level of comfort should be, or what the right thing to do is, regardless of who you are or your circumstances.
Prioritize sites that lay out information neutrally and give you the space to decide your own course of action or what the right decision is for you. It can be hard to detect misleading information, but the more we use our radar, the more clearly we see through misinformation.
It is worth talking specifically about the information on abortion that can be found on the internet because there is a lot of misinformation about it that comes from individuals and organizations that have the political goal to restrict access to abortion and deter people from choosing to have an abortion. If you visit a website to find information on pregnancy options or on abortion specifically, here are some red flags hinting that your information might be coming from an anti-choice information:
Abortion is either not mentioned as an option or, if it is, it is framed as a negative, emotionally difficult option that carry high risk of consequences on someone's health and on mental wellness rather than a neutral option to be considered among other possible decisions.
The information is shared in a way that is meant to make people feel bad about considering having an abortion and like it is a morally bad choice.
The information and/or stories shared are meant to show how people who choose to carry an unplanned pregnancy feel very happy about their decision and those who chose to have an abortion live intense feelings of regret, sadness, and pain.
All significant life decisions can bring a range of emotions and the same is true for abortion. The reality is, whenever studies are done with people who have accessed abortion, a majority of people report that they did not find abortion emotionally or psychologically harmful. The most common feeling reported is relief. While some people find it stressful or difficult in the short-term and deserve compassionate support, most cope positively and do not experience long-term problems. If you come across sources that make it seem like the most common emotional response to an abortion is negative and seems like it is meant to scare you off, you have stumbled across an anti-choice site.
Pay attention to language
The language used on a website is usually a good clue to know if you've surfed your way to a reliable source on sexual or reproductive health or to a site that is promoting a certain option or idea.
Look out for broad, judgmental statements like: "everyone regrets their abortion", "risky homosexual lifestyle", or "sex outside of marriage mixes infatuation and lasting love".- None of these statements are true and unbiased (and all are real examples taken from the dark side of the internet).
Health information should be presented in a way that is sensitive, accepting, respectful, and inclusive. It shouldn't be about shaming or moralizing someone into making certain decisions about their health, their bodies and their relationships. The goal of a website that focuses on health, including sexual and reproductive health, should be to empower you by providing you with clear verifiable health information and, when appropriate, with a range of unbiased options so that you can make informed decisions that are right for you.
Check sources
Look for science-based information that acknowledges choices and different levels of comfort. Does the source reference reputable statistics, reports or information put forth by health authorities? Does it reference government reports? These are some ways to check the reputability of a source.
Make sure the website clearly indicates where they are getting their facts from. The content should be based on research and scientific findings, not just opinions or values. If a website is presenting content as facts, check whether it is backed up by reliable sources. For instance, if they say "2 in 5 people experience…", try searching to see if that information is replicated elsewhere. If not, it might be an unfounded claim.
Check links
If a website does link to papers or research articles that are meant to back up the information on the website, check who authored the content and if the material has been peer reviewed (a group of other health researchers or experts have evaluated and critiqued the material prior to publication).
Check for dates
Information on health should be recent and up to date because research in the medical field is ongoing and information can change quickly. Check to see when posts are dated, if the website has a copyright date at the bottom of the page, or for any other clues about when the content was created, for example, if there are any cited materials with dates on them.
Check for context
The content should make reference to factors that contribute to or affect health, such as income, race, or gender, . and not place blame for poor health on the people themselves. This means looking at the social determinants of health, and not just at an individual and the decisions they make, because none of us make decisions in a vacuum.
Who's in charge here?
Is it clear who is responsible for the website content? If yes, even better if the site links to an organization or person you can look up and trust. If it's not clear who is in charge of a particular website, be cautious when trusting this information.
Get in touch
It's even better if you have the option of contacting the person or organization who is providing content for the website if you have questions – and better still if the site provides a way for users to give feedback and ask questions. This means they are up for hearing different information and updating their information as needed.
Who are they linking to?
It's a pretty good sign if the web site is referred to by other reputable organizations and experts (like provincial, territorial or federal health authorities – see below for more on this), or if the website links to other credible sources with useful, accurate, and reliable information.
Check to see which other sites link to the website you are getting information from. Are government or academic sites linking to the site you're on? That could be an indication that the site is a reliable source information.
In Canada, provincial, territorial and federal health authorities and agencies provide reliable evidence-based health information on their web sites. Non-profit organizations with a health mandate (such as medical organizations, public health units, and health charities that are well-known and reputable as some anti-choice, anti- comprehensive sexuality education, and anti-LGBTQ+ organizations sometime have names that make them sound like reputable sources of health information) can be good sources of quality information. Check to ensure that the information has been scientifically researched and based on evidence.
Better go to the doc!
Does the website acknowledge the limitations of the information it is presenting? If the website presents health information, check for a disclaimer. A good website should include something to the effect that the information is not intended as a replacement for medical advice, legal advice, or as a replacement for consulting a doctor.
Is the website informing you or selling you stuff?
Can you see who sponsors or funds the website? Some websites provide evidence-based information, others are meant to sell you a particular service or product while at the same time appearing to provide unbiased health information. Here is a list of questions to help you determine whether the website you are looking at has your best interest in mind, and not your wallet as their main focus point:
Is the website trying to sell you a product?
Is the purpose of the website clearly stated? (e.g. to provide information, to sell a product, etc.)
Does the information appear balanced to you? If the information favours a product that is being sold on the website, it is probably biased and not a reliable source of health information.
Does the website disclose any financial connections between who is writing the content and who is providing the funding to run the site?
Does the website require you to provide personal information, like your name or e-mail address, to access the information on the site? Use caution if they do, some websites may be looking to sell your information to third parties.
When it comes to pharmaceutical companies, sometimes their websites can be a great place to start to find information about a particular product, like an IUD or birth control pills. They can be a good source of information, however, it is important to remember that the goal of these web pages is often to get people to use or buy that particular product, so make sure to check out a few other sources of information as well and research the other options that exist when choosing something like contraception.
To get you started
Of course, you might not be able to tick all the boxes for every website but keeping these considerations in mind can help you judge how much to trust a particular source.
Meanwhile, here's a short list of credible and reliable sexual and reproductive health resources with quality information.
Action Canada for Sexual Health and Rights
CATIE (Canadian AIDS Treatment Information Exchange)
Public Health Agency of Canada
Health Canada
Sexuality and U
Teen Health Source
Options for Sexual Health
ACT
Gay Men's Sexual Health Alliance
Nuance
Planned Parenthood Ottawa
Planned parenthood Toronto
Options for Sexual Health
Centre for Sexuality
Click here for a list of all of our associate organizations
For More info on evaluating online health information
Canadian Public Health Association (CPHA): "Evaluating Health Information Online"
Medical Library Association (MLA): "A User's Guide to Finding and Evaluating Health Information on the Web"