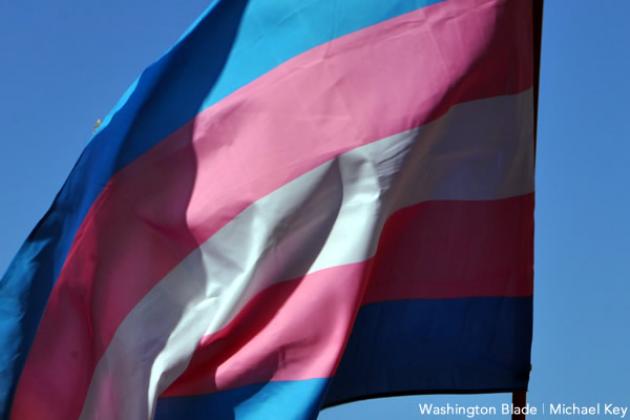 Source: Helen Parshall | Washington Blade
With the receipt of royal assent, the Canadian government has passed an unprecedented nondiscrimination law protecting both gender identity and gender expression.
Advocates across Canada have praised Bill C-16, An Act to Amend the Canadian Human Rights Act and the Criminal Code, which adds gender identity and gender identity to the country's nondiscrimination and hate crimes laws. They describe it as an important step towards protecting the transgender and gender non-conforming communities across the country.
"Basically what this law does is say that trans people and gender non-conforming people are a protected class in Canada," said Rachel Lauren Clark, a Canadian trans activist.
"C-16 puts this air of protection around trans people, and I feel like I'm a part of Canadian society and that I'm protected," continued Clark.
"The purpose of this legislation is to ensure that everyone can live according to their gender identity and express their gender as they choose," said Canadian Justice Minister Jody Wilson-Raybould in a statement released after C-16 passed in the Canadian Senate on June 15.
Wilson-Raybould sponsored the bill.
"It is about what's best for children and people to live and grow up happy and healthy," said Melissa Schaettgen, an advocate whose 10-year-old daughter Warner is trans. " We knew what we had to do for our child to help her grow up safely."
Schaettgen spoke as a witness on behalf of her daughter at the Senate hearings on C-16. Their entire family attended many of them, as Schaettgen said, to "have them see our faces once they heard our story."
"Imagine you're a parent, and you're sitting there with your children in these debates where people are discussing how trans people aren't real women," she said. "It was emotionally devastating, and some days we left in tears."
The bill was over a decade in the making, stalling several times in the Canadian political process. For a bill to become law in Canada it must be read three times in both the House of Commons and the Senate and then put forward for royal assent.
The first version of C-16 was introduced in 2005, but it did not move past its first reading.
"All of the bills on gender identity and expression leading up to C-16 were private members' bills (PMBs," said Alexander Xavier, an LGBTI coordinator for Amnesty International Canada. "[PMBs] get less floor time, are lower on the order paper and rarely pass."
Amnesty International Canada is one organization under the umbrella of the Trans Equality Canada Coalition, a group dedicated to advancing the rights of trans and gender non-conforming people.
"The coalition has been part of a shift away from seeing [C-16] as a 'trans issue' and towards seeing it as a 'human rights issue' and a 'Canadian issue,'" said Xavier. "There have been a lot of factors in that shift and a lot of work done to educate people and shift public opinion that made C-16 possible."
In explicitly differentiating between gender identity and gender expression, C-16 is unique in the protections it provides. While gender identity is internally focused, expression refers to the ways that a person externally looks and is perceived.
"The language opens the door up to all gender expression, and not just strictly trans-identified gender expression," said Cara Tierney, an artist and part-time professor. "Ideologically, it is a system to have everyone's gender expression be protected and be theirs."
While Prime Minister Justin Trudeau has not released a formal statement, he tweeted in celebration of the bill's passage and said, "Great news: Bill C-16 has passed the Senate – making it illegal to discriminate based on gender identity or expression. #LoveisLove."
"Trans folks are the victims of a disproportionate amount of physical violence and abuse," said Darrah Teitel of Action Canada for Sexual Health and Rights. "C-16 is not only about establishing protections from discrimination but also protecting from hate crimes and violence inflicted on the streets based on gender identity and expression."
Advocates say that their next step is education.
"There's so much more work to do, whether it's having pronouns respected by an employer or access to housing," said Beck Hood, an LGBT public educator. "There are so many children entering into a world that isn't what it was before, but there are still pieces that need to shift."
"I see the rest of my career and life being educating the people around me," added Tierney. "There's a major uphill battle still ahead of us in many ways, but the piece of legality is so important."
Melissa Schaettgen and her daughter have become advocates for raising the visibility of trans youth in Ottawa and around Canada.
"Warner and I view C-16 as our launching point. She told me that it feels like 'having a superpower that I can defend myself with,'" said Schaettgen.
"We get strength from speaking out and hoping to change things," she added. "As a mom, if I can make the world even a sliver better for her future, then it's worth doing."