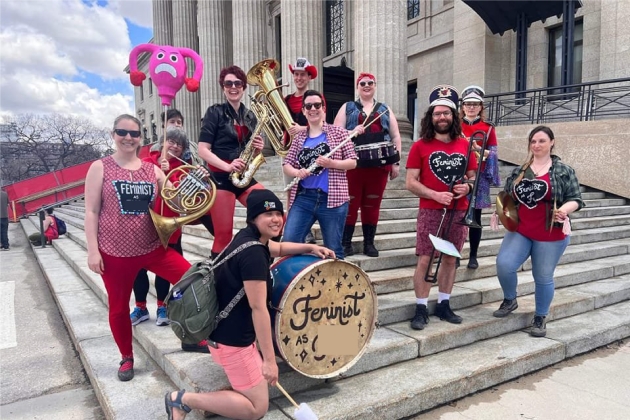 Is the lack of equitable access to abortion care in Canada getting you down? Is the sight of anti-choice protests outside hospitals and clinics making you want to scream?
Here's what you can do to help! The Feminist AF Marching Band is collecting donations for Action Canada "in honour of" each anti-choice protestor at the Winnipeg Women's Hospital—and you can do the same for clinics and hospitals across Canada!
By making a donation to Action Canada's Norma Scarborough Emergency Fund, your donation is directly supporting someone who otherwise wouldn't have access to the abortion they want and deserve!   
And the need is greater than ever. While Action Canada used to support an average of 5 people a month through the Fund, that number has increased to 5 people each week! Now, on average, we're supporting 30 people each and every month. And each of these cases requires, on average, 20 hours of support, and $1,000 in funding.      
Every dollar helps and the Feminist AF Marching Band is aiming to raise $1,450: that's $25 for each of the 58 anti-choice protestors who showed up at the Women's Hospital this year. Will you help defend abortion rights and join us with a donation today?