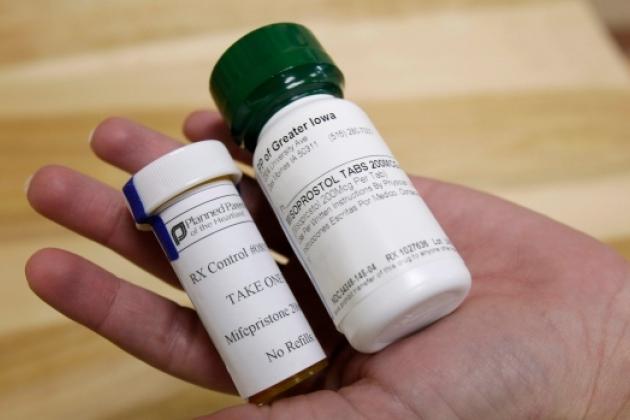 Source: Laura Payton | CTV News
OTTAWA — A new abortion drug that hit Canadian shelves in January faces too many barriers to make it easily accessible, advocates say.
The medication, Mifegymiso, can be used to end a pregnancy in the first trimester. It's taken as two separate drugs, mifepristone and misoprostol, and has been legal in France under the name RU-486 since 1988. In 2015, Canada became the 61st country in the world to approve its use.
But the regulations — proposed by the manufacturer Celopharma and accepted by Health Canada — are unusually restrictive, according to doctors and pharmacists.
Those rules were initially interpreted to mean that doctors, rather than pharmacists, had to dispense the medication, and that patients had to take the first dose under the doctor's supervision.
Those highly unusual restrictions left doctors and pharmacists scratching their heads as they tried to sort out how it could be prescribed and sold.
But Health Canada has since tried to clarify those rules, following pointed questions by the British Columbia and Ontario Colleges of Pharmacists asking if pharmacists can dispense the drug and doctors simply have the option of asking patients to take the first dose in front of them.
That's left a patchwork of interpretation across the country, and potentially opens up the professionals providing the drug to additional professional liability for not prescribing as required by the product's instructions.
Both B.C. and Ontario's pharmacists have agreed to off-label dispensing, said Phil Emberley, director of professional affairs at The Canadian Pharmacists Association.
"The only problem is that off-label use of any medication puts more professional liability on the person who's involved in that. That's a little bit disconcerting. I know as a practicing pharmacist, to not have the blessing of a regulator [Health Canada] is a bit of a concern."
Celopharma says it's sold 900 units so far, although that doesn't mean it's yet been prescribed 900 times. It's not clear whether anyone is tracking the number of prescriptions issued for the medication.
New rules could be coming
A spokeswoman for Celopharma said the requirement to take the drug in front of a doctor has changed, though she wouldn't say when that happened.
"Medical supervision is required, however, it is not mandated that the medication be swallowed in front of the physician," Paula Tenenbaum said in an email to CTVNews.ca last week.
"The requirement for supervision ensures that the woman has access to emergency follow-up treatment if required."
Celopharma has made a second regulatory submission, encouraged by Health Canada, to allow a pharmacist to dispense the drug and relax some of the other rules around the product, including the number of weeks into a pregnancy it can be taken.
Currently, Health Canada allows Mifegymiso to be used up to seven weeks into a pregnancy. An April, 2016 article in the Journal of Obstetrics and Gynaecology Canada (JOGC), however, recommends its use up to 10 weeks.
The current regulations also mean doctors and pharmacists have to take at least one hour of a six-hour online course before they can prescribe or dispense Mifegymiso.
"I'm not aware of other drugs, certainly in women's health, where there is a mandatory training component," said Dr. Dustin Costescu, who helped create the training course on behalf of the Society of Obstetricians and Gynecologists of Canada, and who is one of the researchers behind the JOGC article.
The combination of mandatory training, physician dispensing and need for women to take the first dose in front of a doctor made the Canadian rules "one of most restrictive policies, certainly among the developed nations," Costescu said.
'Gold standard'
It took Health Canada took two-and-half-years to make a decision on Mifegymiso, about three times longer than a new drug approval usually takes. It was expected to be available in January, 2016, but was delayed an additional year.
Sandeep Prasad, executive director of Action Canada for Sexual Health and Rights, says Health Canada chose to regulate "this gold standard of medical abortion" more stringently than many narcotics.
"With both B.C. and Ontario saying that they will not follow the system that Health Canada has mandated, I can't help but think Health Canada must feel like it has pie in its face, and quite justifiably so. These restrictions are actually unnecessary and just signal a lack of trust in people that seek abortion care," Prasad said.
Prasad and other advocates are frustrated that another drug, Methotrexate, can be used off-label for medical abortions — albeit less effectively — and costs less (it's not approved for medical abortions). At the same time, the World Health Organization recommends Mifegymiso for medical abortions, not Methotrexate.
Before it was approved, advocates lauded Mifegymiso as a way to improve access to abortion for women living in rural or remote communities, who would normally have to travel to a bigger centre to terminate a pregnancy. Three months into sales, it's not clear whether that will be the case. One fear is that requiring a doctor to dispense the medication rules out small communities that rely on a nurse. But it's also about which doctors are taking the training and where they're located; Costescu says most already provide surgical abortions, and they tend to be in urban areas.
"We do expect there to be a slightly slower uptake in the rural and remote areas," he said.
Celopharma says it has shipped Mifegymiso to half the provinces and territories in Canada: British Columbia, Yukon, Alberta, Saskatchewan, Manitoba, Ontario, and Newfoundland and Labrador.
'Seized with the issue'
So far, more than 500 physicians, nurses and midwives have signed up for the training, and that's with minimal advertising, Costescu says. The Society of Obstetricians and Gynecologists of Canada says more than 400 pharmacists have signed up for the course.
Aside from the confusion over prescribing and dispensing, concerns remain over Mifegymiso's cost. Surgical abortions are covered under provincial health care, but the abortion pill isn't. Catherine Macnab, Planned Parenthood Ottawa's executive director, says she's seen the cost range from $280 to $425 (Celopharma sells it for $300).
"In any case, it's very expensive" for women, she said. A surgical abortion, on the other hand, runs the provinces anywhere from $800 to $2,000, depending on where it's performed.
"Compared to a surgical abortion, [Mifegymiso is] far less invasive," Macnab added.
"The person who's taking it has a lot more control over what happens, it can be taken a lot earlier in the pregnancy, so the pregnancy doesn't advance as far and somebody doesn't have to deal with being so pregnant."
With the federal government resoundingly feminist and pro-choice, Prime Minister Justin Trudeau says they're closely following the concerns about access to Mifegymiso.
"I know that Health Canada is seized with this issue," Trudeau said on International Women's Day, when asked about its availability in rural and remote areas.
"I have tremendous confidence in our Health Minister Jane Philpott, who is a family doctor who has worked extensively overseas in international development, as well who understands how important it is to have access to safe reproductive health choices. I know that we are going through the proper steps in regards to this product."
Philpott declined an interview request, citing drug approvals as a regulatory issue, not ministerial.
Abortion pill timeline
September, 1988: France approves Mifepristone, also known as RU-486, for use. Protests delay its introduction onto the market.
July, 1991: Approved in Britain
September, 1999: Approved in Israel
September, 2000: Approved in the U.S.
February, 2006: Australia's Parliament removes an effective ban, but the drug is only available to doctors with permission to import it. It becomes more widely available in August, 2012
December, 2012: Linepharma applies to Health Canada to have Mifegymiso brought to the Canadian market
January, 2015: Health Canada asks Linepharma for more information about its application, pushing back a possible approval
July, 2015: Health Canada approves Mifegymiso for terminating early pregnancies. Celopharma will be the Canadian distributor
January, 2017: Mifegymiso is available by prescription to Canadian women — as long as their doctors and pharmacists have taken an online course about the medication