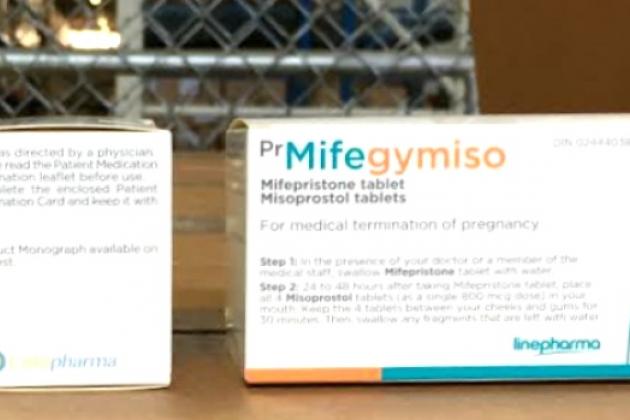 Mifegymiso, which is a combination of two drugs that end pregnancy, became available in Canada in January
Source: CBC News
An abortion treatment Alberta promised would be available and free to women is still difficult to find, two years after being approved by Health Canada.
Mifegymiso, which is a combination of two drugs that end a pregnancy, became available in Canada after delays in manufacturing in January 2017.
While it's been offered to women at Calgary's Kensington Clinic since January, it's still not yet widely available elsewhere.
"We have had people travel quite a distance to receive it here," said Celia Posyniak, executive director of the clinic.
The cost of providing Mifegymiso, which ranges between $300 and $450 per treatment, is a big reason it's not being offered at more clinics in Alberta, said Posyniak.
500 women treated in Calgary
"If the cost had been a lot lower than it is, it would have spread like wildfire across the province," she said, adding patients who have received the treatment at the Kensington clinic have given positive feedback on it.
Approximately 500 women have taken the new medical abortion treatment free of charge at the clinic since January, with funds the clinic gets from Alberta Health Services covering the cost.
Posyniak said other clinics will likely start to offer the service once the coverage the Alberta government is planning is actually in place.
"They're waiting for coverage issues to be resolved. At least I hope that's why," said Posyniak, who described Mifegymiso as a game changer for abortion services across the country.
Alberta government says announcement coming soon
Posyniak said the treatment is effective and can be taken at home, meaning it could make a big difference in remote communities.
In a written statement to CBC News from Health Minister Sarah Hoffman, Alberta Health said it remains committed to making the pills available throughout the province.
"Our government strongly supports women's reproductive health options and we will soon announce details of a program to provide universal access to Mifegymiso for Alberta women," Hoffman said. "The intent of this program will be [able] to provide the drug free of charge and expand the range of reproductive health options that are readily available to women, regardless of where they live in the province."
None of the four major pharmacy chains CBC News called in Edmonton carried Mifegymiso and some did not even recognize the name.
Another reason it's taking time for the pills to become more available on the shelves could be because of guidelines in how they're prescribed and dispensed by Health Canada.
57 AHS professionals have been trained
"When Health Canada granted approval of Mifegymiso for use in Canada, it did so with a number of restrictions and since then some have been rolled back," said Sandeep Prasad, executive director of Action Canada for Sexual Health and Rights.
Doctors still have to take a training course before being allowed to prescribe the drugs. But recognizing the six-hour module could be shortened, Health Canada has changed it to one hour.
In total, 135 physicians and pharmacists in Alberta have registered to take the course with the Society of Obstetricians and Gynaecologists of Canada. Of those, 57 have completed it, but the society will not reveal where those health professionals practise.
Prasad is confident access to Mifegymiso will start to open up now that Alberta is working on a coverage plan and Health Canada is beginning to relax its guidelines.
He said all governments that cover the service will save money in the long run, because while it is costly, Mifegymiso is still cheaper than a surgical procedure and is far more effective than any other abortion pills.
Posyniak cautions it could still take a while for the treatment to be readily available in all parts of Alberta even after the government makes it free for women.
"It may start off slowly and it may take some initiative from the part of health authorities to make sure that there is someone offering it in their zone in Alberta," she said.
Alberta, Manitoba, Ontario, New Brunswick and Quebec are the only provinces that have so far agreed to cover the cost of the treatment.