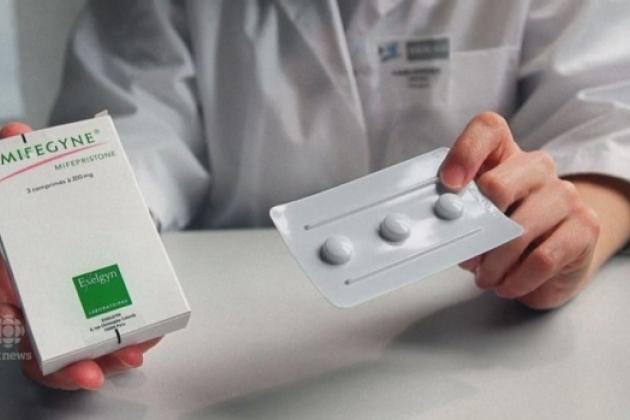 Source:  Kate Dubinski | CBC News
Mifegymiso is now covered by OHIP but few doctors offer to prescribe it
It's billed by provincial health officials as a free, safe and effective alternative to surgical abortion.
It was touted as a way to give women in rural and remote areas an option to terminate their pregnancies.
Mifegymiso, already used in more than 60 countries for decades, is free as of today in Ontario.
Getting a doctor to prescribe it is a different story.
According to figures obtained by CBC News from the Society of Obstetricians and Gynaecologists of Canada, fewer than three per cent of doctors in London, St. Thomas and Woodstock have either registered to take or taken the required online course needed to prescribe the drug.
You can't get it at the Middlesex-London Health Unit.
It won't be available at the city's abortion clinic until the fall.
Of the 20 walk-in clinics contacted by CBC London, only one said it might offer it.
And so, for at least a couple more months, the promise of a non-surgical alternative to abortion is out of reach for women in this region.
"I think there was a Health Canada holdup around this based on ideology," said Darrah Teitel, the public affairs officer for Action Canada for Sexual Health and Rights, an abortion rights group in Ottawa.
It took a decade for the drug to be approved in Canada, one of the longest drug-approval processes ever.
Mifegymiso has been available with a prescription since January, but cost between $300 and $400. Doctors prescribing it have to take an online course.
The two-step drug is taken medically to terminate an early pregnancy — up to seven weeks gestation.
A woman wanting a prescription has to first get an ultrasound to date the pregnancy and to make sure there are no medical complications.
"In over 60 countries, for nearly 30 years, Mifegymiso has been a safe and accessible abortion option," said Sarah Hobbs-Blyth of Planned Parenthood Toronto when the drug coverage was announced last week.
"The people of Ontario deserve reproductive healthcare regardless of income or location."
Alberta and New Brunswick have also made the drug freely available and Teitel said her organization has been getting more calls about which doctors provide prescriptions in those provinces.
She said it's likely calls about Ontario doctors will begin as women learn about the Mifegymiso option.