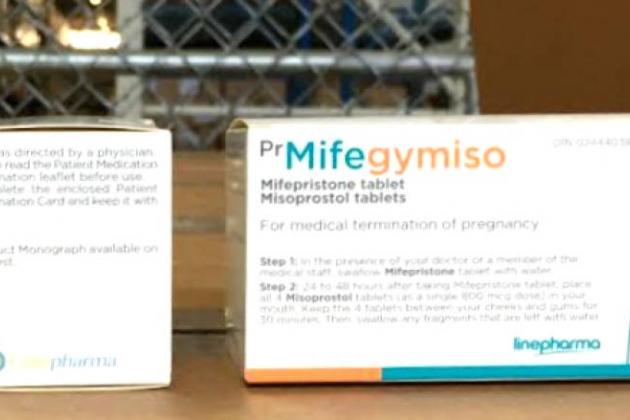 Mifegymiso cost for patients will vary by coverage and eligibility through other benefit programs
Source: Stephanie Taylor | CBC News
Mifegymiso, an 'abortion pill' that can be administered up to 49 days into a pregnancy, will be covered by the Saskatchewan Drug Plan effective Sept. 5.
The provincial government announced the move Thursday after a review of whether the pill should be reimbursed through the provincial drug plan, something a 14-member expert panel has recommended every Canadian province do.
Saskatchewan plans to offer the same coverage for Mifegymiso — a two-drug combination that gives women a medical abortion — as other drugs listed on the provincial formulary.
That means the cost will vary patient-to-patient, depending on their income and enrolment in other benefit programs, as well as private insurance coverage, according to a Ministry of Health assistant deputy minister.
"If a person has a very high income and very low drug costs you likely would not have any coverage through the provincial program," Mark Wyatt said Thursday.
"People who have lower income, higher drug costs would get some level of benefit."
He said the medication costs around $360.
Low-income patients who are eligible for supplementary health benefits will either pay $2, or be able to get the pill free of charge, Wyatt added.
Women who require immediate treatment but are are unable to cover the cost may ask their pharmacist to access emergency assistance through the drug plan for a reduced co-payment.
No universal access
Unlike Saskatchewan, the governments of Alberta, Ontario and New Brunswick have extended universal access to the medication for women in their provinces.
Manitoba has also made the medication free of charge to women who access it from approved centres and Quebec's government has committed to make it universally accessible by fall.
A spokesperson for Saskatchewan's Ministry of Health said the province is offering coverage similiar to that which exists in British Columbia.
Frederique Chabot, a health information officer with Action Canada For Sexual Health and Rights, said universal coverage is a priority for access to the cost-prohibitive medication.
"This is not what's happening in Saskatchewan."
"It may help some people to see it added to the formulary, but for people who don't have private insurance or are not covered by other governmental programs this still means that they will need to disburse the cost of this medication, which can go as high at $450," she said.
More prescribers needed
In Saskatchewan, women require a prescription from a physician to access the medication.
Despite Health Canada guidelines that say doctors should not only prescribe the drug, but dispense it as well, the College of Physicians and Surgeons of Saskatchewan and the Saskatchewan College of Pharmacy Professionals have said pharmacists are allowed to supply the medication, so long as a patient has a prescription from a physician.
Chabot said health providers like pharmacists and nurse practitioners should be encouraged to become prescribers in order to increase access to the medication for women in rural areas, where there not be as many doctors.
As of Thursday, Wyatt said 58 health providers in the province had signed up to take an online course required to prescribe the medication.
"This decision by the government in Saskatchewan doesn't change how the pill will be made available to patients across the province or the country," Chabot said.