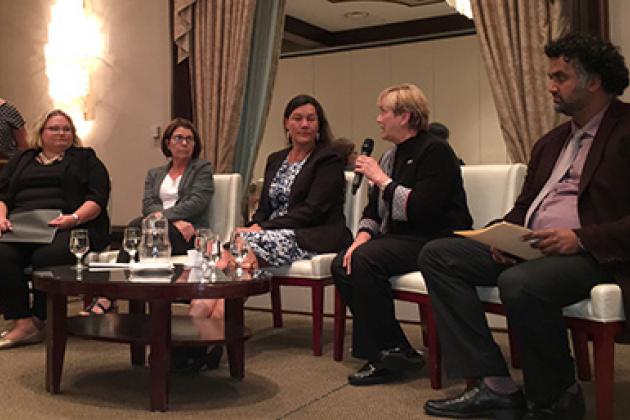 Source:  David Granovsky | Canadian Nurse
While in Edmonton during the Council of the Federation's summer meeting, CNA also attended an Action Canada for Sexual Health and Rights panel discussion timed to coincide with the COF event. On July 18, CNA president Barb Shellian participated in Action Canada's panel discussion Abortion Access in Canada: The Politics of Mifegymiso, speaking about how barriers to access to medical abortion could be removed.
Among the other panellists were Sarah Hoffman, Alberta's minister of health, and Sandeep Prasad, executive director of Action Canada. New Brunswick Premier Brian Gallant provided opening remarks. Shellian shared her views on the need to expand access to comprehensive reproductive health services such as Mifegymiso, the role that nurse practitioners play in increasing access to care and CNA's advocacy at the federal level.
In most of Canada, only medical doctors can prescribe Mifegymiso — a drug combination of mifepristone and misoprostol that provides a non-surgical option for early abortion. The drug became available to Canadians in January. New Brunswick, Alberta, Manitoba, Ontario and Quebec will cover its cost. In Ontario and Yukon, NPs are authorized to prescribe the drug; the remaining jurisdictions are seeking clarification from Health Canada on whether and, if so, when NPs in those regions can prescribe it.
Many Canadians, particularly those living in rural and remote communities, have NPs as their primary care providers and do not have timely access to physician services. CNA believes Indigenous people and Canadians living in rural and remote communities have the right to the same services as the rest of Canadians.
"As the new Mifegymiso abortive medication lacks access at this time, it is an example of how outdated regulation and legislation prevents Canadians from accessing the quality services they deserve. While nurse practitioners (NPs) are integral to providing Mifegymiso, to do so Canada's premiers must ensure that NPs can practise to their full scope," Shellian said in a statement. "CNA is therefore calling on federal, provincial and territorial governments to eliminate these and other barriers to delivering timely access to quality care."
Following the July 17-19 COF meeting, the premiers made several announcements, some of which highlighted the need to respond to the federal government's decision to legalize non-medical cannabis through Bill C-45 (the Cannabis Act), combat the opioid crisis, improve pharmaceutical drug coverage and work on the challenges associated with the rising costs in health-care delivery.
Shellian said CNA was "very pleased that the opioid crisis is still at the top of their agenda. Given the positive impact supervised consumption sites have on community safety, a lot can be done in Canada to establish many more of these services. Further, it is of the utmost importance that governments improve access to health and social services such as opioid agonist treatments, including methadone, Suboxone and diacetylmorphine (prescription heroin) for persons who are ready for such interventions."
With Bill C-45 expected to be passed for July 2018, Shellian urged provincial and territorial governments to work with the federal government to adopt a pan-Canadian public health approach and to invest in prevention strategies to reduce the adverse health, social and economic consequences of cannabis use.
Shellian's statement also touched on other key issues of interest to CNA, including the national inquiry into missing and murdered Indigenous women and girls and the renegotiation of the North American Free Trade Agreement.
COF's 2018 summer meeting will take place July 18-20 in St. Andrews, N.B.