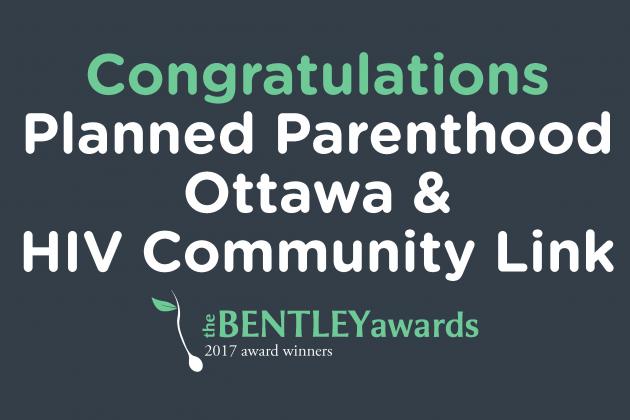 Action Canada for Sexual Health and Rights is excited to announce the winners of the 2017 Helen and Fred Bentley Awards of Excellence: Planned Parenthood Ottawa (first place) and HIV Community Link (second place)!
We received a strong number of applications but Planned Parenthood Ottawa's Parent Peer Leadership (PPL) program and HIV Community Link's Shift Program stood out for their innovation and leadership.
Planned Parenthood Ottawa's Parent Peer Leadership (PPL) program improves parent-child communication on sexual health in Ottawa's immigrant communities through training and discussion about healthy development and sexuality. Parents feel they can communicate more openly and accurately with children and youth about healthy sexuality while upholding their cultural values and have reported increased comfort and less fear of the Ontario Sexual Health Curriculum. Click here to read the Planned Parenthood Ottawa press release »
For over 10 year's, HIV Community Link's Shift Program has provided safety planning, access to basic needs, safer sex education and supplies, case management, and trauma-informed supportive counselling to adults involved in sex work. In 2016-2017, Shift saw 129 registered clients and 193 unique sex worker contacts through street outreach. Unlike most sex worker services, Shift is non-denominational and exiting the sex work industry is not a primary goal. Click here to read the HIV Community Link press release »
Action Canada is proud to count Planned Parenthood Ottawa and HIV Community Link among its Associate Organizations. Our Associate Organizations and partners continue to encourage and motivate us with their creativity and success. We are constantly inspired and look forward to ongoing collaboration and experience sharing to ensure that all people are guaranteed their sexual and reproductive health and rights.
For more information about both programs and the Helen and Fred Bentley Awards of Excellence please contact [email protected]ights.ca