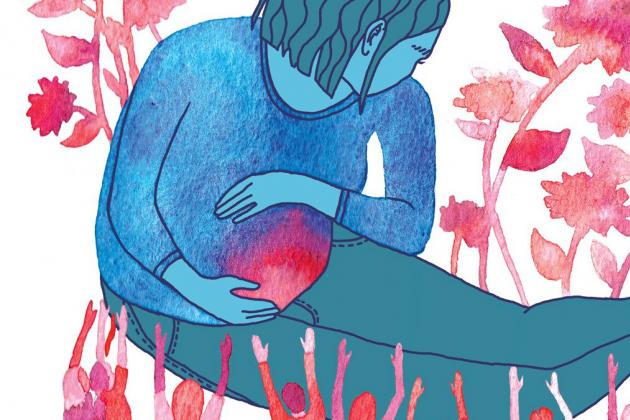 Source: Jane Kirby | Briarpatch Magazine
On January 28, 1988, the Supreme Court of Canada submitted its historic Morgentaler decision, striking down an abortion law that made legal abortion permissible in only very restricted circumstances. The decision decriminalized abortion, making Canada home to one of the world's most liberal legal climates for abortion access and provision.
Yet the decision has been far from a panacea when it comes to abortion access, let alone the broader spectrum of reproductive issues. Even on the 30th anniversary of the Morgentaler ruling, access to abortion remains patchy across the country, and gross violations of women's and trans people's right to bodily self-determination persist. Enduring barriers, including a lack of funding and providers, together with ongoing oppression and colonialism, have impacted people's experiences of reproductive rights and exposed the limitations of these legal victories in assuring our full reproductive options.
"We are a long way from realizing sexual and reproductive rights in Canada," asserts Sandeep Prasad, the executive director of Action Canada for Sexual Health & Rights, which works on sexual and reproductive policy and health promotion. "The 30th anniversary of the Morgentaler decision forces reflection on how difficult it still is to access reproductive self-determination in this country."
Access denied
Despite abortion being legally permissible in Canada, obtaining an abortion can still be a difficult task, especially in rural areas and in the North. Only one in six hospitals across Canada provide abortion services, with most providers located in major urban centres.
This means that in areas without a provider, those seeking abortions have to travel long distances, often at personal cost, to undergo the procedure. For those with limited incomes, difficult work schedules, or families, accessing this basic health care service can be very difficult.
The introduction of the abortion pill Mifegymiso in 2015 may be a watershed moment for abortion access, not unlike the Morgentaler decision. The availability of the pill could improve access in remote areas, reduce wait times for those in cities, and allow those seeking abortions to avoid the harassment by anti-abortion protesters that sometimes accompanies a visit to a clinic.
The pill, which is currently prescribed by doctors and dispensed by pharmacists, can be taken by those seeking abortions at home. But while some provinces – Ontario, Quebec, Nova Scotia, New Brunswick, and Alberta – have promised universal coverage of the pill, others – B.C., Manitoba, and Saskatchewan – have promised only partial or local funding.
"These medicines are safe and effective. They should be easily available, and they should be free," says Dr. Jessica Shaw, an abortion researcher and board member with Women Help Women, an organization that educates people about self-managed abortions and supports them in accessing the abortion pill. "There is no need for them to be only available from a physician." Midwives and nurse practitioners could also prescribe the pill, or it could be accessible without a prescription.
One reason to expand availability of the abortion pill outside of doctors' offices is the issue of conscientious objection, which has also been a limiting factor in the availability of surgical abortions. "People are not always supportive of abortion," says Susan Manning, a PhD student and researcher with FemNorthNet. "And it can be hard if your doctor or support person won't give you the information you need." These issues are compounded when there are already multiple barriers to accessing health care, as when someone's immigration status is precarious or in remote areas where providers are few and far between.
Prasad is determined to see this change. "Moving forward, the question is: will we continue to tolerate barriers to access?"
Decolonizing the movement for reproductive liberation
Perhaps the biggest challenges to accessing abortions exist for people living in the North. "There are no abortion providers in the northern regions of any of the provinces," notes Manning. And yet, Manning says that while abortion access is important, "it is not necessarily the top concern."
For those in underserviced areas, Manning asserts that "a more vital concern is distance from basic health services, including regular pregnancy care." Many people have to be flown from their communities to give birth, especially if they have complicated pregnancies. This can mean being separated from their families, or, for Indigenous peoples, being removed from their culture and connection to the land, or receiving culturally inappropriate care.
Access to pregnancy care hasn't been at the top of the agenda for the mainstream (white, urban) feminist movement, likely because they have been able to take these services for granted. Yet women of colour have long advocated for a broader vision that includes the right to not have a child (through access to contraception and abortion), but also the rights to have children, to control birthing options, to parent the children they have, and to raise those children in safe and healthy communities. This inclusive vision was termed "reproductive justice" by a Black women's caucus at a pro-choice conference in Chicago in 1994, in recognition of the multiple systems of oppression that influence the context in which we make reproductive decisions, and the fact that for many marginalized communities, the rights to have and parent children are far from guaranteed. In Canada, residential schools and the '60s Scoop – the period from the 1960s to the 1980s during which Indigenous children were removed from their families and placed in foster care at a grossly disproportionate rate – are historical examples of how Indigenous families have been prevented from parenting their children. And these issues continue: in 2011, 48 per cent of children in foster care were Indigenous.
"One of the reasons that abortion is not always a hot topic in Indigenous communities is that colonialism and colonial policy has set the discourse to be one of 'how can we make Indigenous people disappear?'" explains Manning. "There is a terrible legacy of forced sterilization in some Indigenous communities that has sometimes made the focus less about abortion and more about the resources needed to raise healthy families."
Dr. Karen Stote, author of the book An Act of Genocide: Colonialism and the Sterilization of Aboriginal Women, has documented the ways Indigenous women have been targeted for sterilization, and how this served the colonial goal of decimating Indigenous peoples. Indigenous women were disproportionately subjected to the eugenics laws that existed in Alberta and B.C. until the 1970s, but they have also been targeted in provinces without eugenics legislation. Most recently, a 2017 independent review in Saskatchewan confirmed that Indigenous women felt harassed into signing consent forms for sterilization while in labour. These women have since filed a class-action lawsuit against the province, alleging that the coerced sterilizations are examples of institutional racism and have caused them physical, spiritual, emotional, and psychological harm.
Stote's research indicates that when abortion laws were liberalized, as was the case with the 1969 law that made abortion permissible under certain circumstances, as well as the Morgentaler decision, Indigenous people were coerced into abortion services. For example, the 1994 British Columbia Task Force on Access to Contraception and Abortion found that Indigenous women were pressured into agreeing to abortions, long-acting contraceptives, or sterilization.
"This creates a very clear message that mainstream society does not want us to grow our nations and is actively interfering with our reproduction," says Krysta Williams, the advocacy and outreach coordinator for the Native Youth Sexual Health Network, which works on issues of sexual and reproductive health, rights, and justice in the U.S. and Canada. "Sterilization and contraception is promoted at the same time as we are told to celebrate non-restrictive access to abortion."
"Whenever reforms take place within the system while the larger social relations of our society remain intact, there is a risk of increased access to services being experienced coercively by Indigenous and other populations who are already marginalized or exploited by this system," Stote asserts. "In principle, right of access to legal and safe reproductive services, including abortion, is important for women to have choice in their reproductive lives. But it is not enough."
Moving forward, combating violence and oppression needs to be a priority, as does respecting Indigenous self-determination. The Native Youth Sexual Health Network is leading the charge in this regard, connecting reproductive and sexual justice to the broader issues affecting Indigenous communities, including struggles for land and resistance to resource extraction. "We need to keep pushing for community controlled, full-spectrum sexual and reproductive health, rights, and justice by and for our communities, led by those most impacted," insists Williams. "It's also about internally, within our communities, having the space to renormalize reproductive influence in our own lives by repairing the relationship between knowledge of our bodies and territories."
State responses to reproductive concerns, as in the decriminalization of abortion, can only go so far in situations where the state is upholding colonialism and broader systems of oppression. Stote poses the question: "Is it even possible for anyone to have reproductive self-determination while living under capitalist, heteropatriarchal, colonial, or white supremacist conditions?"
Williams concurs. "We need justice before we can talk about choice."
Toward reproductive self-determination
One crucial place for challenging these systems of oppression is within the medical profession. Women and trans people frequently rely on the expertise of medical professionals for their reproductive health care, and their ability to oppose systemic injustice and ensure respect for people's reproductive autonomy must be at the core of a just system.
"Autonomy is very important, but we have a right as women to demand that the public health-care system give us autonomy," says Dr. Sally Mahood, a women's health physician in Regina. She suggests that we need collective responses to reproductive health injustices that include both patients and providers.
Mahood points to the National Abortion Federation, whose work was crucial to having Health Canada back down from unusually stringent requirements regarding who could prescribe and dispense Mifegymiso.
Likewise, campaigns like Canadian Doctors for Refugee Care, which resisted the Harper government's cuts to the Interim Federal Health Program that covers refugee health care, or the Access Without Fear campaigns that demand that everyone has access to basic health-care services regardless of immigration status, are examples of organizing to make health care – including reproductive health care – more inclusive and just. Other initiatives, like the midwifery program in Nunavik, work within the health-care system to integrate traditional and Western approaches to giving birth, while allowing people to stay in their communities.
These collective responses are crucial to fulfilling the promises of both the decriminalization of abortion and publicly funded health care. In Canada and globally, where culturally appropriate methods aren't available, where abortion access is criminalized or seriously restricted, or where people have other reasons to mistrust or fear the mainstream health-care system, other safe options must be available.
"With the 30th anniversary of the Morgentaler decision, I've been thinking about how decriminalization has facilitated people in Canada becoming good partners with pregnant people around the world," says Shaw while speaking about Women Help Women.
Abortion activists in Canada and around the world use locally sourced medicines that can induce an abortion, or other methods that may include herbs. "Supporting self-managed abortions means working with abortion providers who are not necessarily medical providers. This might mean supporting people who have accessed abortion medicines for themselves or helped friends access them," notes Shaw.
In partnership with local organizations, Women Help Women responded to 60,000 people and made 40,000 medicines available around the world in 2016. Women Help Women's board members live in Canada, where decriminalization means that providing abortion support is not illegal. "In a country like the U.S., which has such restricted abortion laws, you wouldn't be able to do this work," Shaw explains. Because the Roe v. Wade decision legalized – but did not decriminalize – abortion in the U.S., there are up to 40 different laws that could be broken by those who end their own pregnancies and those who support them. Recognizing the difficulties faced by people in the U.S., Women Help Women started a program specifically to support American pregnant people living under Trump. While they do not send medicines to pregnant people in the U.S., they are able to offer informational support to people who have self-sourced abortion medicines and are determined to use them. "We're able to do this because we don't have those laws," says Shaw.
Making self-managed abortions more safe and informed would improve access, but this is not the only reason to support people in ending pregnancies themselves. "Self-managed abortion is emerging as a movement that is not just one for access, but one that is resisting the medicalization of women's bodies," asserts Shaw. "Some do this work because of the access issue, but for others it is about putting women's health in women's hands."
In many ways, the feminist movement is back where it was 30 years ago, advocating for greater control and understanding of our own bodies. The Morgentaler decision made abortion provided by medical professionals safer, and for some people in some places, more accessible and affordable. Yet we still need to organize to fulfill the promise of this decision, and to ensure that no one faces coercion or abuse in their reproductive lives. The way forward for reproductive justice is one that does not sacrifice the concerns of one group for those of another, and that resists all forms of violence, oppression, and control. The promise of the Morgentaler decision was that in decriminalization, there is more potential to control our reproductive lives, independent of the state. Let's spend the next 30 years seizing that promise.
Jane Kirby is a writer and aerialist who has been involved with several feminist and social justice organizations. She is the author of the book Fired Up About Reproductive Rights and currently lives near Kingston, ON, Anishinaabe and Haudenosaunee territory.