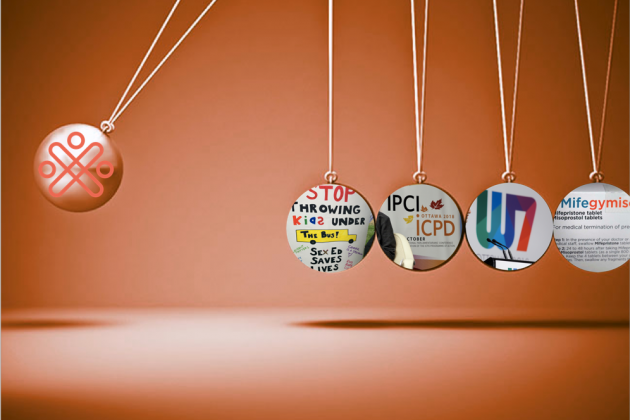 We can't believe the year is coming to a close and what a year it's been! On behalf of the Action Canada team, happy holidays and thank you for all your support throughout the year.

So much happened in 2018 and  we wanted to share some highlights with you! 
Happy holidays! Read 'til the end for a bonus holiday reading list! 📖
1. Access to the Abortion Pill in Canada!
When we wrapped up 2017, the abortion pill Mifegymiso was covered only in New Brunswick, Alberta, Ontario, Quebec and Nova Scotia. A year later, British Columbia, Prince Edward Island, Newfoundland and Labrador, and the Yukon are now also universally covering the abortion pill! In a year, coverage increased from 40% to 70%!  
2. The Fight for Comprehensive Sex-Ed
In the last year, we have been advocating for comprehensive sex-ed in different ways. We did a Canada-wide scan of sex-ed curricula, fought against sex-ed roll-backs in Ontario and British Columbia, organized workshops and training sessions for educators, and raised awareness on the importance of sex-ed with provincial and federal elected officials. Stay tuned for our campaign on sex-ed  launching in 2019!
3. Victories at the UN!
In 2018, Canada was reviewed at the UN under the Universal Periodic Review and the Committee Against Torture. Due to our advocacy work, Canada was held accountable on its human rights obligations and was asked to ensure equal access to abortion and comprehensive sex-ed, and to end forced sterilization of women, particularly Indigenous women. 
4. Awareness Raising Events
Action Canada was instrumental in organizing many events this past year that promoted sexual and reproductive health and rights! The two events we want to highlight are: W7 Canada, which brought together feminist trailblazers to ensure feminist voices were heard at the G7, and IPCI 2018, where parliamentarians from around the world came together to advocate for sexual and reproductive health and rights. 
Holiday Reading List 📖🎁🎀

Looking for something to read during the holidays? Here's a list of op-eds we wrote in 2018! Enjoy!

Ontario: Young people have a lot to lose in this election
Health ministers responsible for reproductive health, too
Why politicians are trying to rob a generation of their right to sex-ed
Displaced Rohingya women need access to abortion, not just food and shelter
More than 150 international parliamentariens to meet in Ottawa to defend sexual, reproductive health, rights
Invisible safe zones around abortion clinics have a tangible impact on patients and providers
Will Trudeau show the world what a feminist government truly looks like?
Women and the forgotten emergency response
The Morgentaler Ruling: 30 years later, we're at a turning point
Action Canada for Sexual Health & Rights is a progressive, pro-choice charitable organization committed to advancing and upholding sexual and reproductive health and rights in Canada and globally.