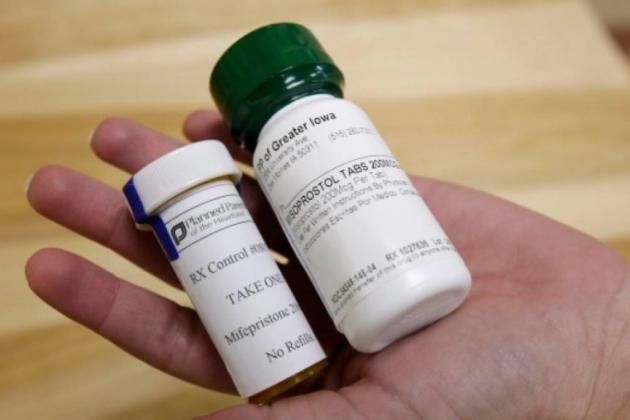 Doctors issued more than 4,000 prescriptions for the abortion pill Mifegymiso to Canadian women in 2017 — the first year it was available in Canada.
That's according to information provided by Health Canada in an answer to an order paper question tabled by Conservative MP Arnold Viersen.
"In 2017, an estimated 4,253 new prescriptions of Mifegymiso were dispensed by Canadian retail pharmacies," Health Canada wrote.
The department says that between January 2017, when the drug was first made commercially available in Canada, and February 2018, it received only one report of an adverse reaction from the drug — heavy bleeding.
Mifegymiso — better known as RU-486 — is a compound incorporating two drugs that together terminate early pregnancies. It was approved for use in Canada in 2015.
Restrictions lifted
Initially, Health Canada placed a number of restrictions on its use, such as limiting prescriptions to pregnancies no more advanced than seven weeks and requiring prescribing doctors to take a training course.
Those restrictions were lifted in November 2017. Federal Health Minister Ginette Petitpas Taylor said that, given the high demand in the first year, easing the restrictions was the right move.
"Our government has been very clear when it comes to reproductive health rights for women. We want to make sure all options are available for women. We can see that there's certainly a need when we look at the numbers," she told CBC.
Groups that pushed for access to Mifegymiso for years also applauded the numbers.
"It's very encouraging," said Frederique Chabot, director of health promotion for Action Canada for Sexual Health and Rights, a non-profit, pro-choice agency.
Chabot said Mifegymiso can offer abortion access to women who live far from hospitals and clinics providing surgical abortions.
"When I think of women, for example, in Nunavik in Quebec who have to travel to Montreal to seek care — that's a plane ride and days away from your family, days away from your community and work. So we have a chance now to address some access issues," she said.
But while she said she's happy the drug was prescribed more than 4,000 times — even though the restrictions were only lifted last November — she added not all women in Canada have equal access to the pill.
'It's not cheap'
Part of the problem, she said, is the drug's cost, which averages between $400 and $450 per dose, depending on the province.
Right now, six provinces cover the drug through provincial health care plans: British Columbia, Alberta, Ontario, Quebec, New Brunswick and Nova Scotia.
Women elsewhere must rely on private drug plans or pay out of pocket for Mifegymiso, Chabot said.
"It's not cheap at all. It's not everyone who has that lying around, so again it creates this uneven access," she said.
"People who have $450 dollars in their savings account have access to abortion. People who don't, don't."
The decision to cover Mifegymiso is up to individual provinces. Petitpas Taylor said the federal government "really hope(s) that all options are available to all women across the country.
"Our government has been clear about that and that's why we've moved forward in making sure this medication is available to women."
Viersen did not respond to requests for an interview about Health Canada's response to his question.