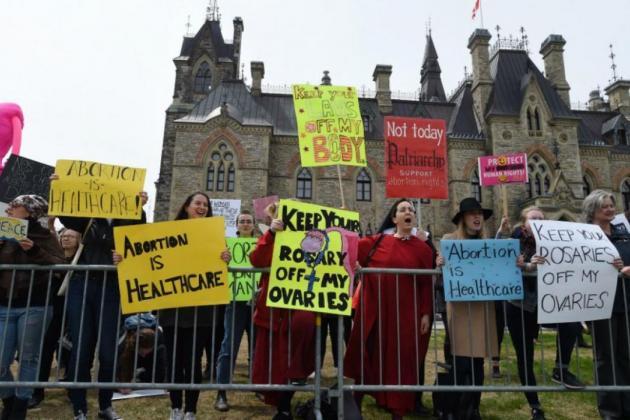 Sexuality, gender, and reproductive health are never "objectionable".
Action Canada for Sexual Health and Rights is profoundly troubled by the introduction of Bill 207 on 'conscience rights' in the Alberta legislature last week.
Bill 207 is an overt attack on sexual and reproductive health access, and has now passed first reading with a strong majority of MLAs in favour. Premier Jason Kenney has not yet commented on the private member's bill – but its introduction signals a departure from his campaign promise that "a United Conservative government will not address this issue, will not engage in this debate, will not initiate legislation". Action Canada remains deeply concerned that this move will inflame and enable discrimination against LGBTQ2S+ people, people living with HIV/AIDs, and people seeking basic reproductive health services, including abortion.
There is no debate: Health care is a human right. The office of a health care provider should be a space where people can speak openly about their health and access the care they are entitled to– not one where patients fear disapproval and bigotry from their health care provider because of their identity, choices, and sexual behavior. This bill seeks to deny access to health care services on moral and religious beliefs, without clear mechanisms in place to ensure timely and effective referrals for those services or the delivery of care in emergency situations (when effective referrals aren't possible), in line with human rights law. It opens the door to limitations on the legal right all people in Canada have to health care services like birth control, contraceptives, Plan B, and abortion care.
In a step further, it seeks to apply the right to conscientious objection to institutions (like hospitals and clinics). Institutions do not have rights, and therefore cannot be permitted to deny access to publicly-funded health services, like abortion care, at the institutional level.
Through the work we do managing Canada's only 24/7 toll-free abortion information line and our network of Associate Organizations across the country delivering front-line health information and services, we know that people often encounter barriers to their care because of the personal views of health care providers. We hear of people receiving inaccurate or misleading information resulting in delays accessing vital, often time-sensitive care.
Attempts to limit reproductive and sexual rights through legislation like Bill 207 are not new, but they are a dangerous step towards justifying the denial of life-saving information and care. While similar legislation has been found to be in violation of the Charter and the right to health, we are seeing a growing momentum around these laws across the country, most recently in Ontario, and around the world. The passage of this bill in Alberta would illustrate a blatant disregard for human rights and threaten the ability of thousands of people in that province to access the care they need to live healthy lives.