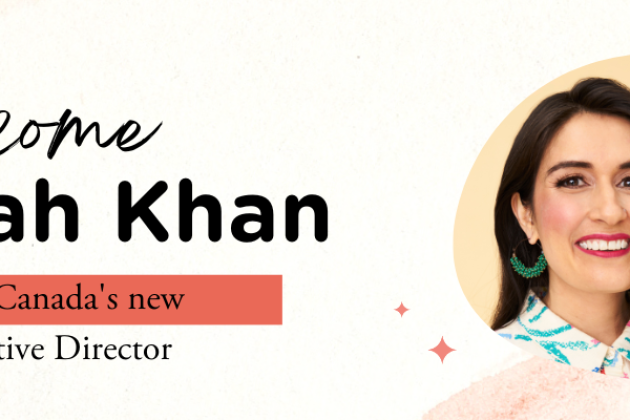 Action Canada is pleased to announce our new Executive Director, Farrah Khan.
Farrah Khan is an award-winning human rights and gender equity advocate. She is dedicated to advancing progressive policies on access to abortion, reproductive rights, stigma-free health care, 2SLGBTQIA rights, and inclusive sex-ed in Canada and globally.
A change-maker with over two decades of experience in gender justice movements, Farrah has worked as a trauma counsellor, educator, policy advisor, and consultant. She is a trusted advisor to organizations, institutions, and governments. Farrah has shaped policy at all levels of government, including as the co-chair of the Ontario Provincial Roundtable on Violence Against Women and as a member of the Government of Canada Advisory Council on the Strategy to Prevent and Address Gender-Based Violence. In 2018, she was appointed to the Gender Equality Advisory Council for the G7 Summit, where she insisted, before an audience of world leaders, that concrete action on gender equity is necessary to create a thriving, sustainable, and peaceful world.
Farrah addresses complex problems by creating innovative, community-based solutions. She established one of Canada's first stand-alone campus sexual violence support and education offices, Consent Comes First, at Toronto Metropolitan University. Farrah also co-created Use The Right Words, a suite of media guides for journalists reporting on gender-based violence used by newsrooms and journalism programs across the country, and the Healing Comes in Waves podcast, now a go-to resource for young people affected by sexual violence in Canada. Since 2018, she has led Courage to Act, a ground-breaking national collaborative project addressing gender-based violence at Canadian post-secondary institutions. The project has engaged 3,500 stakeholders and will have produced 82 accessible resources by the end of 2023.
A sought-after voice in national media, Farrah has appeared on the CBC's flagship programs, The National and The Current, and quoted in Maclean's, Chatelaine, and VICE. Her writing has appeared in Refinery 29, the Toronto Star, and the Globe and Mail. She uses her platform to create space to mentor and amplify young feminist groups to engage with mainstream media and advocate with policymakers. 
Farrah has received numerous awards for her feminist advocacy, including the Governor General Persons Case Award, Girl Guides of Canada, Gold Maple Leaf Award and the Canadian Council of Muslim Women's Women Who Inspire Award. Her lifelong work demonstrates her commitment to systemic change rooted in joy, equity, and community care.
We are thrilled to have Farrah join the Action Canada team. She is a changemaker and leader who will build on Action Canada's existing strengths and support an organization that can continue to break down barriers, protect our rights, and push for a world where all people everywhere have full control over, and are able to decide freely upon, all matters related to their sexuality, reproduction, and gender, including their reproductive and sexual health.
The Board of Directors and staff at Action Canada would also like to extend our heartfelt gratitude to Interim Executive Director Julie Delahanty, who has supported the organization as the Board undertook the search and will continue to work alongside Farrah this month to ensure a smooth transition.