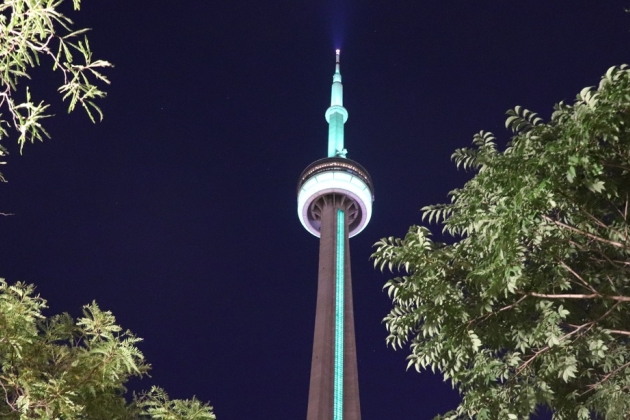 Landmarks across the country are being lit up to help us celebrate SRH Week! Check out the listings below to see if any buildings in your community are being lit up, and feel free to tag us in a pic with #SRHWeek. Thanks to all of these locations for participating in raising awareness on this year's SRH Week theme, and the importance of having access to reliable sexual health information.
We also want to recognize that power of the colour green, particularly as it relates to inspiring Green Wave (Marea Verde) abortion rights movement, which has in the past couple of years alone helped increase access to abortion services and care in Argentina, Colombia, Ecuador, and Mexico.
All buildings go green on Friday, February 17th, unless otherwise noted. 
Alberta
Reconciliation Bridge, Calgary 
British Columbia
BC Place (Northern Lights), Vancouver (Wednesday, February 15)
Science World, Vancouver (8-10pm ONLY)
Vancouver City Hall and Burrard Street Bridge, Vancouver 
Victoria Street Bridge, Trail
White Rock Pier, White Rock 
Manitoba
Canada Life Building, Winnipeg
New Brunswick
Downing Street + Downtown Place, Moncton 
Newfoundland and Labrador
Confederation Building, St. John's 
St John's City Hall, St. John's 
Nova Scotia
Halifax City Hall, Peggy's Cove, Halifax 
Ontario
3D Toronto sign, Toronto
Belleville Bridge and Town Sign, Belleville 
Brampton City Hall Clock Tower, Brampton 
Canada Life Building, Toronto 
CN Tower, Toronto
Guelph Market Square, Guelph
JA Taylor Building, Canada Life Building, London
Kingston City Hall and Market Hall, Kingston
London City Hall, RBC Place London, London  
Mississauga Civic Center Clock Tower, Mississauga 
Oakville Town Hall, Oakville
Ottawa City Hall, Ottawa 
The Peace Bridge, Windsor
Riverwalk Commons and Lundy Bridge, Newmarket
Timmins Museum National Exhibition Centre, Timmins 
Welland Canal Bridge, Welland (Monday, February 13) 
Prince Edward Island
Charlottetown City Hall, Charlottetown 
Saskatchewan 
Sasktel Building, Saskatoon  
Quebec
Montreal Park Tower, Montreal