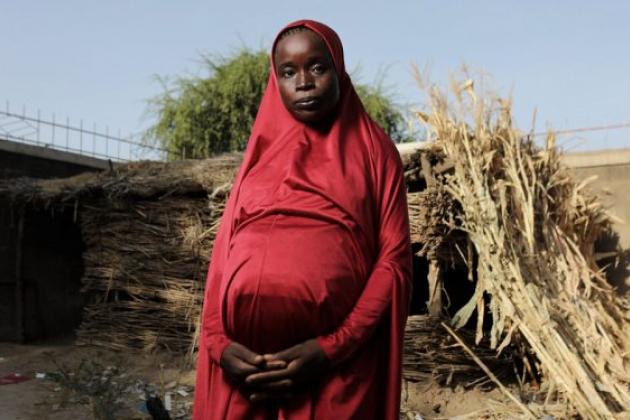 By GILLIAN BARTH & SANDEEP PRASAD, published in The Hill Times    APR. 18, 2018
Fatima Abba Bukar is nine months pregnant. It is her first pregnancy since she miscarried while fleeing Boko Haram late one night more than a year ago in northern Nigeria. She's safe now and recently learned of a nearby maternal health clinic. It's the first time she's ever received antenatal care, including regular check-ups, free medicine, and a "dignity kit" that includes sanitary pads, a bucket and soap for washing, laundry detergent, a cloth wrap, and other hygiene items. Even such basic items are not available to most women in humanitarian crises.
During conflict and natural disasters, women still become pregnant, continue pregnancies, seek contraceptives and abortion care, and deliver babies. We cannot ignore the fact that people are being routinely denied their sexual and reproductive rights and the related health services they seek in these contexts. Nearly three-quarters of pregnant Syrian refugee women in Lebanon surveyed in a study published in 2015 wanted to prevent future pregnancy, and more than half did not desire their current pregnancy.
In humanitarian settings, women also face particular threats to safety that include increased rates of domestic violence and rape as a weapon of war. The threat of maternal death, a leading cause of mortality for women of reproductive age, is also amplified during conflict and natural disasters.
Ensuring access to sexual and reproductive health services during a crisis saves lives, just like clean water, shelter, and food. This includes vital services to support those affected by violence, obstetric and antenatal care for pregnant women, and access to contraceptives, safe abortion, and post-abortion care.
While globally we are slowly stripping away the taboo around sexual and reproductive health and rights, progress remains under attack. By politicizing women's bodies and sexual and reproductive health, we are denying women and girls their basic rights and ignoring otherwise preventable deaths from childbirth complications and unsafe abortions.
Last year, United States President Donald Trump reinstated an expanded version of the Mexico City Policy, more commonly known as the Global Gag Rule. The policy restricts non-U.S. organizations that receive U.S. aid from promoting or advocating for safe abortion, even with funds raised from other sources.
Research from U.S.-based non-governmental organization PAI has found that in Nigeria, the single largest recipient of U.S. aid, Trump's Global Gag Rule and political influence will overburden its already underfunded public health sector and undermine reproductive health and overall health goals. Combined with funding cuts, the policy also hampers the work of the UNFPA, the UN agency responsible for sexual and reproductive health, which delivered emergency reproductive health kits containing essential supplies, including contraceptives, to 12 million people in 47 countries in 2016 alone.
These conditions have left others to fill the gap. In March 2017, countries around the world came together to fund sexual and reproductive health and rights. Canada took a strong stance with an initial $20-million commitment followed by a $650-million pledge and a new feminist international assistance policy, though how much of these funds will go toward humanitarian aid is unclear. More focused help is needed, particularly for women and girls facing crises.
We need Canada's G7 presidency to hold the line on sexual and reproductive health and rights and lead the way by announcing a dedicated funding pool for humanitarian initiatives that address sexual and reproductive health and rights.
Prime Minister Justin Trudeau has made clear his desire to promote gender equality and women's rights at the G7 summit, but a robust conversation among leaders must not ignore the needs of the most marginalized women facing emergency situations around the world.
If the Canadian government really wants to bring a gender-equality lens to the G7 table, Trudeau and other leaders cannot be afraid of engaging in difficult discussions on the fundamental rights of women and girls, including during crises.
As the summit approaches, we will look to Canada to commit itself to a sexual and reproductive health and rights policy that includes dedicated funds and encourage G7 leaders and key donors to work towards a similar path. A crucial goal here is to ensure efficient access to funding for comprehensive sexual and reproductive health care in humanitarian settings, so all women and girls have the support they need in times of crisis.