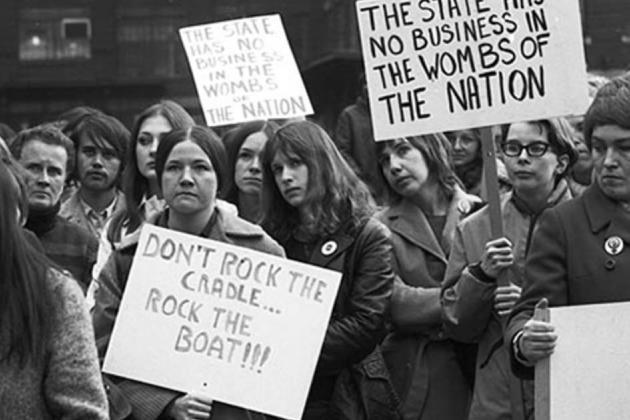 In May 1970, seventeen women set out on a cross-country trek from Vancouver to Ottawa to reject Canada's criminal abortion law and demand legal reform. They stopped in cities and towns along the way, performing acts of guerilla theatre to show how women were suffering and dying from so-called "back-alley abortions". When the Caravaners arrived in Ottawa and no government leaders would meet with them, they chained themselves to House of Commons' gallery seats and shut down Parliament for the first time in Canadian history. Their actions mobilized vast public support that bolstered feminist battles in the courts and the streets in the '70s and '80s, which eventually decriminalized abortion in Canada.
On Mother's Day weekend fifty years later—11 May 2020—a coalition of feminists marked the Caravan's significance in Canadian history by embarking on a virtual "trek" of our own – a "2020 Abortion Caravan", so to speak. Co-editors Jaime Nikolaou and Robyn Schwarz launched "Then and Now: Celebrating the 50th Anniversary of the 1970 Abortion Caravan" – a project comprised of a series of position papers that showcase how pro-choice organizing in Canada has evolved from 1970 onwards. These papers can be explored individually, via each of the links below. Upon completion and as a whole, they will collectively showcase our movement's gains, concerns and current demands. Please download and share widely!
The 2020 Abortion Caravan Position Papers: 
Preface: Editors' Thoughts — A Word of Thanks from Two Feminists for Whom Abortion Has Always Been Legal
Decolonize Abortion Care: Reproductive Justice for Indigenous Communities
New Brunswick Must Fully Fund Abortion: #SaveClinic554
Abortion Care Includes Trans and Gender Non-Binary People
Coming soon! 
Abortion Rights Activism in Canada: 1970 to Present
Expanding Abortion Care Training and Provision 
International Solidarity and Abortion Access 
Comprehensive Sex Education and Abortion Care for Youth 
Countering Opponents 
Destigmatizing Abortion in Canada